Contact information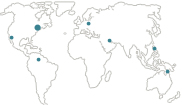 5024 South Ash Avenue, Suite #104
Tempe, Arizona 85282
480 218 7697Telephone:
877 493 3729Toll Free:
480 218 7726FAX:
E-mail: sales@epaymanagement.com
Use this form to let us know what's on your mind. One of our experts will get right back to you.
Departments
Sales & Marketing
Partner Support
Accounting
Human Resources
Research & Development
Product Testing
Vendor Relations
Landing pages
ePay Management has developed a number of product landing pages used primarily as links from Social Media and other marketing efforts.