Print marketing
Print marketing is still a critical ingredient in your sales office's marketing strategy. Business cards, brochures, direct mail postcards and product flyers play a vital role in communicating our brand and our products and services to new and existing customers.
Don't risk making a bad impression with an unprofessional marketing piece. Likewise, confusing your audience with items that look like they are from two completely different companies is a common mistake.

Each and every piece of material should represent our brand, our promise, and our value authentically and consistently. A cohesive marketing strategy and strong, consistent visual branding will not only help you communicate feelings of stability, credibility, and dependability, but they will also help the recipient make an important decision: keep or discard?
We provide quality marketing collateral that will leave a professional impression with your potential clients. Call us today at 1-877-493-EPAY(3729).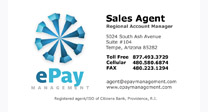 Business cards are printed on a thick, high gloss stock with vibrant colors and are customized with each agents name and contact information.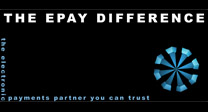 Corporate tri-fold brochures leave an immediate impression with potential clients and can be customized with your personal contact information.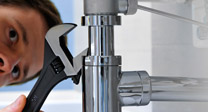 Direct mail postcards are available for a wide range of markets. Market directly to plumbers, dentists, or auto repair shops. We work with you to develop market specific materials.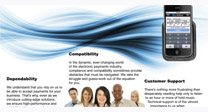 Product specific flyers are a great way to leave information with your prospects. Smart phone processing, consumer financing and free terminal placement are just a few of what we have available.
Pitch books
While the term is often used in reference to investment banking, we have "borrowed" the term for our merchant presentation packages. There is no more powerful a tool than an agent's pitch book. It is an introduction of our company to your potential clients with presentations of select products and services.
The pitch book is a guide our agents use when making an initial presentation to a potential customer. It provides a professional touch and smooth transitions between topics eliminating the worry of a sloppy presentation, while leaving a lasting impression with your clients.
Pitch books are available in print, digital and web-based formats which allow you to perform effective introductions for customer's in person, over the phone or via web-conference.
Pitch books are a guide, not a crutch.
A common mistake is that too many sales people use slides and powerpoints as a crutch and simply read the text to their audience. It is important to avoid the mistake of turning your sales presentation into a dog-and-pony show that describes how great we are - but doesn't address the needs of the customer. We give you the tools, the training and the materials to make "the difference".
Web-based media
When we refer to our sales and referral agents as "partners". We mean it. We offer registration of our corporate website and product landing pages with customization of the 1st level domain, contact information and links. This allows you to market our services, independently, without worry of losing credit of a sale due to your potential client contacting us directly.
Our agents can print links to their sites on post cards, brochures and emails. Search engine optimization (SEO) and social media marketing (SMM) are also available to boost the traffic to YOUR sites, increasing your lead potential.
Creating your own Facebook, Twitter and LinkedIn accounts can be hugely successful when done properly, as can maintaining a blog. We can show you how to market effectively, generating a buzz about your office and driving new business to your front door.
Agents are provided with corporate email addresses and are extended every image enhancing program available.
All we are waiting on is for you to pick up the phone and call us. 1-877-493-EPAY(3729).